Isle of Wight badger poisonings: 'Buckets' of poison used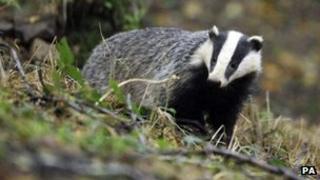 An RSPCA inspector has described the "buckets" of poison poured into badger setts on the Isle of Wight as the largest amount he has ever seen.
Hampshire Constabulary investigated 20 badger dens on Thursday on land behind Boxers Lane, Niton.
Mark Buggie, from the RSPCA, said: "The poison could have caused a horrible and incredibly painful death, involving a lot of internal bleeding and pain."
Up to a dozen badgers are thought to have been affected.
But Paul Creer, from the Badger Action Group, said no bodies had been found, most likely because the animals would have crawled underground to die.
The poison was discovered near a public footpath.
Protected species
Mr Buggie added: "There's no doubt in my mind this was a deliberate act of cruelty.
"It was the largest amount of poison I have ever seen - there was buckets of the stuff dumped at the entrance of these setts.
"We have spent most of the afternoon digging this poison away to make sure the area is not only safe for the badgers in the area, but also the people dogs and children who frequent the footpath."
PC Nick Massey, wildlife crime officer, said: "Badgers are a protected species and it is an offence to kill them and also interfere with badger setts.
"It is also an offence to lay any poison on any land."
The setts near Boxers Lane are thought to be more than 100 years old.