Jahmel Jones shooting: PhD student 'helped killers flee'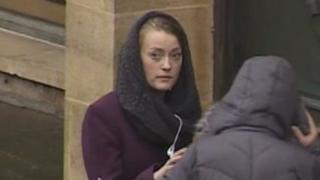 A university academic helped three drug dealers flee after they had shot dead a rival in Southampton, a court heard.
Winchester Crown Court heard Rachel Kenehan, 35, was in a relationship with one of three men accused of the murder of Jahmel Jones on 20 April last year.
The PhD student had met him through a prison mentoring scheme.
Ms Kenehan denies the charges against her. Jemmikai Orlebar-Forbes, 20, Pierre Lewis, 20, and Isaac Boateng, 22, all from London, deny murder.
Mr Jones, 23, was shot in the head at a flat in St Mary Street in Southampton and died later in hospital.
Mr Orlebar-Forbes, Mr Lewis and Mr Boateng have each admitted two counts of conspiracy to supply class A drugs.
Ms Kenehan, from Hewlett Road in London, denies two counts of conspiracy to supply class A drugs, one count of assisting an offender and three counts of perverting the course of justice.
Studied criminology
The jury heard how she met Pierre Lewis in March 2012 when she mentored him.
When he was released she began willingly helping him in the supply and transport of class A drugs to Southampton, the prosecution said.
Ian Lawrie QC told the jury that after the shooting Ms Kenehan picked up the three defendants from Basingstoke and took them back to London, and helped to destroy forensic evidence.
He said she had gained "an in-depth knowledge of criminal behaviour and the frailty of human nature" through her academic career at London School of Economics studying criminology.
At the time of her arrest, she was studying for a PhD at the University of Essex.
"It is ironic she became involved in crime on a significant scale," Mr Lawrie said.
The prosecution described how an eyewitness saw Mr Orlebar-Forbes fire two shots with a revolver, one of which hit Mr Jones in the head.
White spirit
CCTV footage of the three men later leaving for Basingstoke in a taxi was shown to the court.
The jury was shown a text message exchange between Ms Kenehan and Mr Lewis later on 20 April in which she said "be smart, act normal" and "don't disappear, that'll look weird".
The court heard she later drove to Basingstoke and brought the three defendants to her flat in London.
In subsequent police interviews she said she had remained in London all day on 20 April.
Police later found trainers belonging to Mr Lewis treated with white spirit at Ms Kenehan's London home.
Mr Orlebar-Forbes listed his address as Cloudesdale Road while Mr Lewis is from Castlenau, Barnes, and Mr Boateng from Mill Farm Crescent in Hounslow.
The trial continues.