Portsmouth-to-Spain gas-powered ferry to be built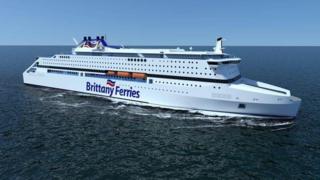 One of the largest gas-powered ships in the world is set to operate in waters between Portsmouth and Spain.
Brittany Ferries said the new £225m French-built "cruise-ferry" will be the cleanest and most environmentally-friendly ship in British waters.
Compressed natural gas emits 25% less carbon dioxide (CO2) than marine fuel oil and burns with no smoke.
Mike Bevens, group commercial director, said the ship, due to be ready in 2017, will mark "a new era" in ferry travel.
"Brittany Ferries and STX France [the company behind the build] have been co-operating for two years on a study regarding the feasibility of powering a cruise-ferry by liquefied natural gas (LNG)," he said.
As well as emitting less CO2, compressed natural gas is also free of sulphur and is very low in nitrogen oxide emissions, the company added.
The ferry's construction price is not much less than the price of a cruise ship and it will be built in the same St Nazaire shipyard as Cunard's Queen Mary 2.
It also costs two thirds the price of the A3 Hindhead tunnel and more than double the cost of electrifying the Great Western Main Line.
Brittany Ferries said the vessel will carry 2,500 passengers and will enter service in spring 2017.