London Congestion Charge adverts 'misleading'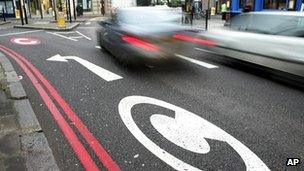 A Hampshire company that charges an administration fee to applicants for the Congestion Charge has been told that its adverts are "misleading".
TAD Services charges up to £16 to customers, compared to the £10 charged by Transport for London (TfL).
The Advertising Standards Authority (ASA) said the company's sponsored adverts on Google "must not appear again in their current form".
A spokesman for the company said its website was now clearer.
The company, which is based in West Tilsted, near Alresford, and trades as PayLondonCongestion.co.uk, had made the changes following ASA recommendations, he added.
ASA investigated and upheld three complaints against the website.
It said: "Many consumers presented with the ad as a search result for the search 'Congestion Charge' would expect it to relate to the official method of payment for the London Congestion Charge.
"We considered that it was not clear from the ad that the link led to a website unaffiliated with the official congestion charge payment website run by TfL and that for that reason the ad was misleading."
The website must now specify the amount of the fees charged when, or before, consumers enter their personal details.
It also includes an advisory, stating that it is not affiliated with TfL, and has added a link to the official site.
Garrett Emmerson, TfL's chief operating officer for surface transport, said: 'We welcome the ruling by the ASA and are using this opportunity to again raise awareness of these unofficial Congestion Charge payment sites.
"Customers should take care when paying the Congestion Charge online and only use the official site.
TfL believes about 1,000 people per day could be using unofficial sites to pay the charge without knowing it.
Related Internet Links
The BBC is not responsible for the content of external sites.