English Heritage censured for Yarmouth Castle glass injury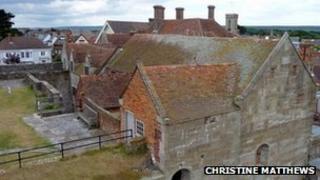 The operator of Yarmouth Castle on the Isle of Wight has been censured after a boy was badly cut by glass.
The 12-year-old, on a family visit, jumped on a glass floor panel, designed to show stonework underneath, when it splintered into shards.
He required surgery for severe lacerations to his left leg.
Operator English Heritage (EH) received its first Crown Censure in 30 years for failing to protect members of the public from risk.
The incident, on 5 September 2011, was investigated by the Health and Safety Executive (HSE).
Its investigation showed two other boys had jumped on the panel in the 17th century exhibition room before the 12-year-old said he would also do so to prove it would not break.
The HSE found the glass floor panel broke because it was not made of toughened or laminated glass and EH had not assessed specifically the risk of glass floor panels breaking at any of its properties since it was created in 1984.
'Completely foreseeable'
EH cannot face prosecution from HSE in the same way as non-governmental bodies, which means that Crown Censures are imposed instead.
The HSE's Mike Wilcock said: "It was completely foreseeable that a tourist site attracting school groups could lead to children walking or jumping on glass floor panels - that is just the nature of children. Indeed the same thing could have happened to any adult who might have slipped or fallen heavily on one of these panels."
In a statement EH, which is responsible for 400 historic sites, expressed regret to the boy and his family for the incident which had "tarnished" its safety record.
"English Heritage admits that it failed to specifically risk assess the safety of the glass panel, which had been in place before English Heritage took over management of the property in 1984, to allow visitors to see the original flooring. There had been no previous incidents with the glass," it said.
"English Heritage has since carried out risk assessments for all our premises with glass floor panels and put measures in place to prevent a similar accident."