Queen Alexandra Hospital parking petition signed by 1,000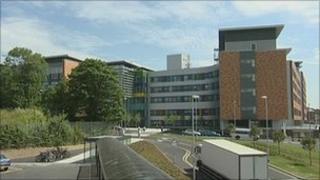 More than 1,000 people have signed a petition criticising parking charges at Portsmouth's Queen Alexandra Hospital.
They say high fees discourage visitors and are calling on the company which operates the car park to give patients, visitors and staff a better deal.
Contractor Carillion said it was reviewing the charges, which currently stand at £1.70 an hour or £16 a day.
A 3.37% increase was brought in last year and a decision on whether fees will rise again is expected next month.
Kirsten Impey, from Wymering, helped set up the petition, which has been handed to Carillion.
She said: "People that are in hospital, they actually benefit from having visitors. They get better quicker, they get out of hospital quicker.
"By putting the prices up so much you are stopping people visiting, and therefore having a knock-on effect on the patient recovering."
'Wholly reasonable'
The petition suggests several options, including a price freeze; extending the first hour charge to cover 90 minutes rather than an hour and reduced parking rates for the long-term sick and their visitors.
Peter Mellor, of Portsmouth Hospitals NHS Trust, said he hoped Carillion would take the petition seriously.
He said: "I think it's wholly reasonable that they should consider in the short term a prize freeze for a year or two.
In a statement Carillion said it had, together with the trust, met Councillor Darren Sanders and MP for Portsmouth South Mike Hancock.
"We will now be working with the trust to review a number of proposals outlined in the meeting and have committed to reporting back at the end of February.
"At the current time no decisions have been made regarding the future level of car parking tariffs at the hospital."
The £256m QA Hospital was rebuilt using private finance and formally opened in June 2009.