Dog rescued from mud in rising tide at Langstone Harbour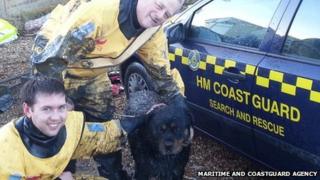 A dog had to be rescued by coastguard teams after becoming stuck in mud up to his chest during a walk.
Eight-year-old Rottweiler Buddy got stuck on Saturday afternoon while walking his owner at Langstone Harbour, by Hayling Island near Portsmouth.
A passer-by called 999 and spoke to Solent Coastguard after seeing the dog in trouble while the tide was rising.
Buddy, who was not thought to be injured, was pulled out by rescuers, put on a stretcher and winched ashore.
A dog handler from Hampshire police helped the Hayling Island and Portsmouth coastguard rescue teams with the rescue.
'Nick of time'
Steve Duff, Portsmouth coastguard sector manager, said: "The owner was obviously very upset to see her dog's predicament and we were concerned because the tide was starting to flood the creek.
"The teams had to work very quickly to get the dog out and put him in a stretcher.
"We managed to get Buddy extracted in the nick of time, just as the water was starting to lap at our boots.
"The stretcher, with Buddy and one of the team on board, was then winched to shore.
"Buddy was washed down, wrapped in blankets and reunited with his relieved owner who was able to take him home, cold and tired, but hopefully unharmed."