HMS Illustrious returns to Portsmouth after aid mission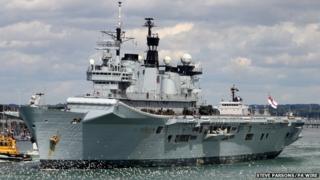 HMS Illustrious has arrived back in Portsmouth after helping with the relief effort following the typhoon in the Philippines.
Britain's only working aircraft carrier was acting as a base for helicopters delivering aid to 40,000 people on outlying islands.
The 23,000-tonne ship was on operations in the Gulf when Typhoon Haiyan struck in November.
The deployment meant its crew of 650 missed being at home for Christmas.
As the ship approached, just before 13:00 GMT, some of the aircraft with the ship flew past the historic dockyard and naval base.
About 1,000 people lined the quayside to welcome home friends and family serving on board.
Illustrious sailed from Portsmouth in August and was scheduled to arrive back on 13 December.
It was diverted to the disaster to relieve Type-45 destroyer HMS Daring, which was one of the first ships to offer help.
'Special homecoming'
More than 5,000 people died during Typhoon Haiyan, known as Yolande in the Philippines.
Strong winds hit the central Philippines when it made landfall on 8 November.
It was one of the most powerful typhoons ever recorded and the deadliest natural disaster in the country's history.
Illustrious spent three weeks repairing key services and delivering emergency aid, such as equipment that could turn sea water into drinking water.
Commanding officer Capt Mike Utley said he was "very proud" the job his crew and the ship had performed.
"The people in the Philippines are extremely resilient, but it was clear to me that those in the worst hit areas had been through a lot," he added.
Able Seaman Emma Whitty joined Illustrious just two days before it left Portsmouth for her first deployment.
"Being away for Christmas and the New Year was tough on our families," the 22-year-old from Fareham said.
"Both of my parents were in the Royal Navy though and they understand. We've got a lot of catching up to do after what we hope will be a very special homecoming."
Illustrious will undergo essential maintenance in Portsmouth before deploying again later in the year.