Matthew Coffin fined and given animal ban for cat dangling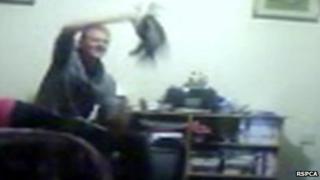 A man who admitted dangling his cat by the tail has been fined and banned from keeping animals for 10 years.
Mobile phone footage showed Matthew Coffin, 27, manhandling the animal, named Daisy, in his Southampton flat.
At the city's magistrates court he pleaded guilty to two counts of causing unnecessary suffering to an animal. He was fined £150.
The RSPCA said Coffin claimed he was preparing Daisy for a visit by someone who had a tendency to pull cats' tails.
RSPCA inspector Penny Baker said: "The 10 year ban handed down by the court shows how seriously they viewed these offences.
"Daisy was less than a year old at the time and didn't weigh much. If he had done that when she was older and heavier then he could have caused serious damage to her spine," she added.