'Naked rambler' Stephen Gough jailed for Asbo breach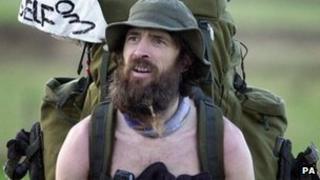 The man known as the "naked rambler" has been jailed for breaching an anti-social behaviour order preventing him from being unclothed in public.
Stephen Gough, 54, of Chamberlayne Road, Eastleigh in Hampshire denied breaching the order during a one-day trial at Winchester Crown Court.
He was sentenced to 16 months in prison.
Gough was arrested on 15 August when he left Winchester Prison unclothed following a previous sentence.
The former Royal Marine gained notoriety when he walked naked from Land's End to John O'Groats and appeared in a TV documentary.
He has now been sentenced to more than seven years in prison for his belief that it is his human right to be naked in public.