Heathlands Cemetery ornate grave consultation begins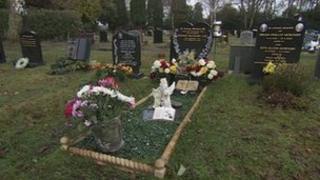 Relatives of those buried at a lawn cemetery in Hampshire may be allowed to create more elaborate memorials for their loved ones.
A long established rule at Heathlands Cemetery in Yateley states graves should be plain and unadorned.
This was not strictly enforced until 2011 when the council asked relatives to clear space around some graves.
After protests, the council is holding a second consultation asking cemetery visitors if the rules should change.
Currently families have a year from the date of burial to adorn the whole length of a grave.
After that, families are only allowed to place flowers and ornaments in a foot-long area near the headstone and plinth.
The rules do not apply to children's graves.
David Cox, whose father's grave is at Heathlands, said "people should have a choice" if they wish to decorate graves.
Councillor Stuart Bailey of Yateley Town Council said the solution would be something "everybody feels comfortable with".
About 7,000 questionnaires have been sent to homes in Yateley. People have until the middle of February to make their views known.