Cancer patient died in Southsea hotel after 999 delay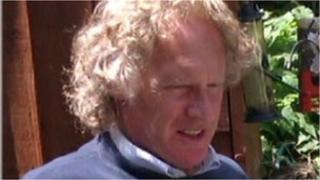 Friends of a cancer patient who died in a Hampshire hotel on Boxing Day believe he may have survived if paramedics had arrived sooner.
Sandi Logan and Richard Hunt called an ambulance for Ben Horne, from Thursley, Surrey, after finding him collapsed in his room in Southsea on Thursday.
He died 22 minutes later, before paramedics arrived.
South Central Ambulance said the initial 999 call had been categorised as "amber" or non life-threatening.
Amber calls have a target response time of 20 minutes.
It was only after Mr Horne stopped breathing and his friends dialled 999 again that the call was upgraded.
A rapid response car arrived a minute after the second call but it was too late.
Mr Horne had been receiving treatment for colon cancer but the cause of his death has not been confirmed.
'See him die'
Ms Logan, who administered first aid to her friend, said when the paramedic arrived he said he was surprised they had "waited that long because he was only up the road with someone else but he could have been here sooner".
Mr Hunt said: "I'm just upset, annoyed, angry, because they should have been there within that time - it's not a case of we might or might not have saved Ben - the point is that Sandi was left to do it and see him die in front of her and that's not fair."
A South Central Ambulance spokesman said: "We would like to send our sincere condolences to the patient's family and friends and sincerely apologise for the delay and distress caused.
"We were experiencing high call volumes on Boxing Day.
"While we plan for an increase in expected demand there are occasions in which some of the peak periods outweigh the resource availability.
"It is regrettable that on this occasion all our local resources were already committed to incidents in the area.
"The nearest available resources were dispatched as soon as they became available."