Acorn glut kills 90 New Forest ponies and cattle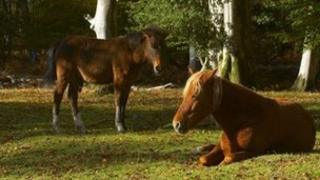 A glut of acorns resulted in the deaths of 90 New Forest ponies and cattle in the latter half of 2013.
The Verderers, who oversee the forest's commoners and their animals, said they would usually expect about eight deaths in a year but rarely more than 30.
Acorns are toxic to most livestock animals but not to pigs, which are released to eat the nuts every year.
There were also 182 collisions involving livestock in 2013, resulting in 72 animal deaths.
Acorns contain toxic tannins that cause ulceration in the digestive tracts of most livestock animals, eventually causing kidney failure.
The number of acorn poisoning deaths usually rises during 'mast years' - when fruiting woodland trees produce a bumper harvest.
From 1 August to 31 December 2012, five animals died, and in 2011 there were six. The last mast year was in 2010 when 27 ponies and five cattle died.
'Exceptional' year
Figures show 2006 was the worst season in recent years, with 47 acorn poisoning deaths.
Although the pigs eat a large number of acorns, they are unable to clear up huge number shed by the thousands of oaks across the 219 sq mile (566 sq km) national park.
Colin Draper, of the Verderers of the New Forest, said: "The number of pigs being turned out are too small to make a difference.
"This year was exceptional - if we put out a thousand pigs we would still have lost ponies to acorn poisoning."
Figures also show that in the 12 months to 31 December, 182 incidents were reported, compared with 135 in 2012.
A total of 26 livestock animals in the forest were killed by vehicles and 46 were so badly injured they had to be destroyed.
A further 32 were injured but survived.
The majority of the animals hit were ponies or cattle, but pigs, donkeys and sheep were also among those injured.