Hampshire nursing home left without power for three days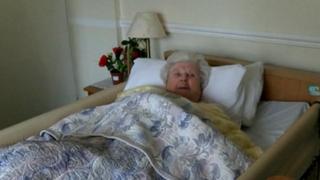 Elderly residents in a nursing home were left in freezing conditions for three days after storms across the UK led to a power cut.
Residents at the Grange Nursing Home in Sherborne St John, Hampshire had to be kept bed-bound for warmth until power was restored at 16:30 GMT on Thursday.
Senior sister Joanna Bell said the conditions were "unacceptable".
Southern Electric Power Distribution (SEPD) said its engineers were working "tirelessly" to restore power to homes.
Ten blankets
Mrs Bell said the home was "freezing cold" over Christmas which meant the 26 elderly were "bed-bound and having to be turned every one to two hours to prevent bed sores".
She added: "Residents were very down in the dumps because they had to spend Christmas in their rooms on their own in bed.
"It was miserable all round."
One elderly woman needed 10 blankets to be kept warm.
A generator was delivered just before 21:00 GMT on Christmas Day but engineers were not available to connect it because of short staffing.
On Boxing Day morning, staff had to come in to take soiled linen home to wash.
As of 16:30 on Thursday, 682 homes in the Basingstoke area were still without power.
SEPD spokesman Neil Anderson said engineers had been working on Christmas day and since 06:00 on Boxing Day to try and restore supplies to as many homes as possible.
He added: "We hope to restore power to the majority of these customers today."