World War Two uneaten Christmas cake story revealed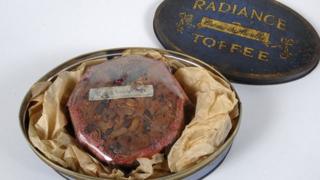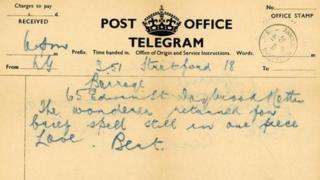 The story behind an uneaten World War Two Christmas cake has been revealed 30 years after it was donated to a museum.
Research by the Royal Navy Submarine Museum uncovered the full story of submariner Bert Hamilton Smith.
Mr Smith, from Nottingham, never returned home to eat his treat, which was purchased for his Christmas leave in 1939.
He was lost at sea in 1941 after a depth charge attack on the submarine HMS P33.
The museum said the story was a "timely reminder" of the separation felt at Christmas by those serving in the Royal Navy.
'The wanderer returned'
The museum in Gosport, Hampshire "stumbled upon" previously unseen letters in its archives written by Mr Smith's sister Flo Burbage, who donated the cake in 1983.
Her information combined with archive records revealed Mr Smith, born in 1905, was due to return in 1939 after serving on the submarine HMS Osiris in the Mediterranean that Christmas.
On his return to the UK he sent a short telegram to reassure his family saying: "The wanderer returned for brief spell still in one piece".
But he never had the chance to return home as he was reposted to Scotland to join the crew of the submarine HMS P33, which was heading for Malta.
In August 1941 the submarine was sent to intercept an enemy convoy off the coast of Libya but was sunk following reports of a depth charge attack lasting several hours.
Mr Smith's body was never found and has been declared lost at sea.
The full story behind his uneaten cake can now be viewed in the museum's area of remembrance.