Christmas lights congestion: Police called to street display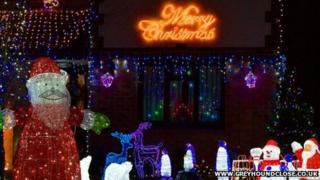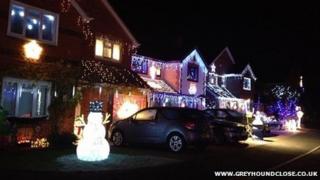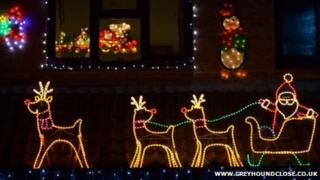 Police were called after hundreds of people turned up to a Hampshire street's Christmas lights display.
The lights in Greyhound Close, Hedge End, were temporarily turned off on Sunday at the request of police, due to the volume of traffic.
The annual illuminations began 10 years ago, with more than £30,000 raised for charity through visitors' donations.
Some residents have complained of their driveways being obstructed, but the display is set to continue.
Resident Paul Salter said Sunday was a "perfect storm" with many people putting off visiting on Saturday due to the weather.
'Monitor situation'
He said: "Everyone decided to come down on one evening.
"It's obviously pleasing word is getting out... but when there's an issue with public safety it is at the forefront of our minds.
"We're working with the police to resolve the traffic issue... but the plan is they will remain on."
Organisers have advised people to take advantage of free evening parking at the nearby Hedge End railway station to help avoid congestion.
The money raised goes to Naomi House children's hospice in Winchester.
Hampshire police said it would monitor the situation and request the lights go off again if more problems arise.
A spokesman said: "Some local residents reported concerns about traffic congestion due to the numbers of motorists visiting Christmas lights.
"Police [were] at the scene working with residents and visitors to help clear the traffic congestion as swiftly and as safely as possible."