Kidney transplant boy meets living donor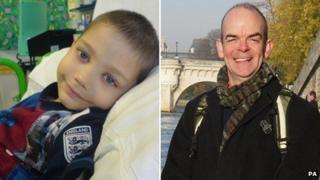 A 12-year-old boy has met the stranger who donated a kidney to help transform his life.
Tom Higgs underwent a kidney transplant at Great Ormond Street Hospital, with the organ provided by an altruistic living donor.
He met his donor, Roger Sutton, a 53-year-old GP from Portsmouth, after the pair exchanged letters.
They waived their right to anonymity to highlight the benefits of organ donation.
Tom has suffered from a rare type of kidney disease, atypical haemolytic uraemic syndrome, since the age of five.
It left the schoolboy, from Ruislip in Greater London, needing nightly dialysis.
'So selfless'
Tom's mother Vicky said: "Those years on dialysis were very stressful and restrictive on our lives.
"I needed to change his dressings before attaching him to the machine and also had to give him weekly injections. It was heartbreaking knowing how much Tom disliked all of this, but we had no choice as his kidneys weren't working and we had to filter his blood."
With a family donor not possible, a kidney from an altruistic living donor was Tom's best option.
Mrs Higgs said: "Our lives have changed so much, it's hard to believe.
"When we heard about the match, we were really surprised that someone would be so selfless."
Mr Sutton said his decision to donate was down to "a quiet conviction that it was the right thing to do".
"It was a chance to say thank you for all the great things that have happened in my life," he added.
Consultant surgeon Sam Dutta said: "The number of altruistic kidney donations has been on the increase here in Portsmouth.
"We know that a healthy person can live a perfectly normal life with one good kidney."
The Human Tissue Authority approved 104 altruistic organ donations in 2012-13 compared with 38 the previous year.