Pizza Hut franchisees jailed for £600,000 VAT fraud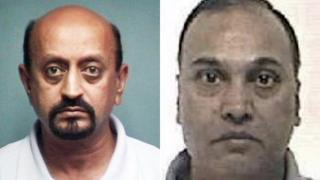 Two businessmen who ran Pizza Hut takeaways have each been sentenced to 18 months in prison for failing to pay a total of almost £600,000 in VAT.
Mukesh Patel, 55, and Harishchandra Desai, 61, operated four outlets, in Southampton, Poole and Bournemouth, from October 2002 to September 2011.
HM Revenue & Customs (HMRC) put their VAT fraud over a four-year period down to "greed and desire".
HMRC praised Pizza Hut for its co-operation during the investigation.
Patel, of Bassett Green Road, Southampton, and Desai, of Exbury Road, Blackfield, Hampshire, were franchisees of Pizza Hut UK Ltd and traded as Pizza Delivery Services Ltd.
'Comfortable lifestyles'
HMRC criminal investigators and Pizza Hut analysed sales data and records, which revealed that between 2007 and 2011 the pair had cheated the public purse out of £598,415.
They suppressed sales figures by telling HMRC they received less in VAT from customers than they had, and in one year failed to declare any VAT at all.
They were discovered when HMRC investigators found discrepancies between the men's declarations to HMRC and official records kept by Pizza Hut.
The men pleaded guilty at Southampton Crown Court on 8 October to cheating the public revenue.
The court heard they were not trying to gain personally, but were ploughing the money back into the businesses to keep them afloat.
But John Cooper, HMRC's assistant director of criminal investigation, said: "Desai and Patel ran four lucrative pizza franchises, but greed and a desire to fund their comfortable lifestyles and other business ventures led them to commit calculated VAT fraud over a number of years."
Pizza Hut has declined to comment.