Cat's body found in submerged trap on Isle of Wight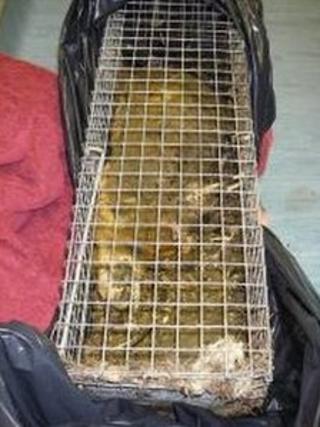 The RSPCA is trying to trace the person responsible for killing a cat that was found in a cage trap submerged in a stream on the Isle of Wight.
Workers discovered the trap, covered with a black bin liner, close to Whitwell Road, between Godshill and Whitwell on 4 December.
The remains had probably been in the stream for about two months and were in an advanced stage of decomposition.
An examination showed the cat was aged between six and eight years old.
But officers could not establish whether it was male or female due to the state of the body.
Gemma Gumbleton, RSPCA animal collection officer, said: "It was deeply upsetting to find the remains of a cat that appears to have been trapped and thrown into a stream.
"It was an action that would clearly have been deliberate."
She added: "The RSPCA is facing a difficult time with the increasing number of stray cats and cat trapping instances on the island.
"Harming these poor creatures is no alternative.
"We are appealing for any information concerning this matter to find out who was responsible for such a cruel act."