BAE shipyard job cuts march held in Portsmouth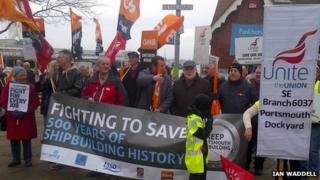 A second march and rally has taken place in Portsmouth in protest at a decision by BAE to bring an end to shipbuilding in the city.
More than 900 jobs are due to be cut by the firm.
Unite national officer Ian Waddell said: "Portsmouth has a proud 500-year history of shipbuilding. It is a waste and a tragedy that the government is allowing this legacy to end."
The first march last month attracted 200 demonstrators with placards.
'Strategically stupid'
Speakers at the rally included Portsmouth City Council leader Gerald Vernon-Jackson and trade union representatives.
Liberal Democrat Mr Vernon-Jackson called the decision to end shipbuilding in Portsmouth "strategically very stupid", as it would mean the UK would not be able to build its own warships if Scotland is granted independence next year.
He said the march and rally still had a purpose despite it being "clear the company has made a decision" and there was "no evidence" of the government changing its mind.
The possibility of getting another shipbuilder in place of BAE meant it was "important to keep pushing the government to persuade them to put in some finances", Mr Vernon-Jackson said.
GMB regional officer Gary Cook said the coalition government wanted "to throw more than 1,000 highly skilled shipbuilders on the scrapheap, many of whom will be destined for a life on benefits".
BAE announced 835 job losses at its sites in Glasgow, Rosyth, and Filton.
The company said it had made the cuts because of a "significant" drop in demand.
The defence contractor and the Ministry of Defence (MoD) have together announced measures they hope will offset the effects of the job cuts.
Among the plans are more than £100m of investment to expand the dockyard at Portsmouth for ship repair and maintenance.