Cocaine pear juice death: Cole Cold Pear-D warning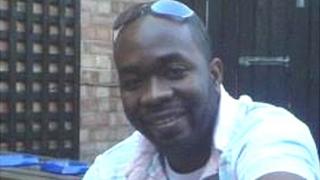 A Royal Navy veteran has died after drinking a pear juice drink laced with cocaine.
Police said Joromie Lewis, 33, of Hampshire, became ill immediately after trying a small amount of the Cole Cold Pear-D drink last Thursday.
He died within hours at Southampton General Hospital.
Officers said Mr Lewis thought the drink, from the Caribbean, was genuine, but they believe the bottle may have been used to bring drugs into the UK.
Hampshire Police said laboratory analysis showed it contained a lethal amount of cocaine.
Cole Cold Pear-D is manufactured in the Caribbean by a company that does not export it to the UK.
SM Jaleel & Co Ltd said: "We can only assume that the product entered the United Kingdom through irregular and unauthorized means and is therefore considered contraband."
Inconclusive tests
It said it had now recalled from across Trinidad and Tobago all bottles from the batch containing the code BB JAN 08 14, from which the contaminated bottle came, as "a precautionary measure".
The Food Standards Agency has issued an alert for shops to withdraw the drink if they find it.
The agency said investigations were continuing to find out whether more bottles of the product had been distributed in the UK.
A post-mortem examination was carried out on Mr Lewis's body on Saturday, but the results were inconclusive and further tests are being carried out.
Mr Lewis lived in Gosport and was a member of Bridgemary Church in the town. He came originally from St Vincent and the Grenadines.
In a statement, Mr Lewis's wife Jayrusha described him as a "devoted family-oriented man with a selfless attitude to help others".
She said: "He always knew the right words and advice to give. His exemplary conduct and actions touched the lives and hearts of many."
Det Supt Richard Pearson said: "Inquiries to date have not identified any further incidents or similar bottles. The investigation suggests that this was likely to be a rogue bottle from a consignment of drugs stored in plastic juice bottles."
Anyone who finds a bottle of Pear-D is advised to take it to their local police station.
The drinks firm said in a statement: "As a company we are shocked and saddened to see our product abused and used in such a sinister manner.
"Our deepest condolences are extended to the family and loved ones of Joromie Lewis at this time.
"SM Jaleel has been and will continue to assist the Hampshire Constabulary with their investigations regarding this tragic matter."