Rape accused, 97, not to stand trial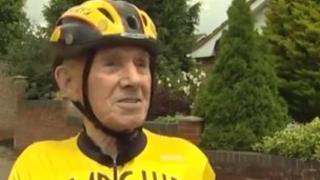 A 97-year-old man will not stand trial accused of raping a girl under 16 because of his deteriorating mental health.
Lionel Veck, of Preston Road, Portsmouth, was charged with rape and two offences of indecent assault dating back to the 1970s.
But a psychiatric report showed his advanced age had caused his mental health to decline recently.
The trial had been due to begin at Portsmouth Crown Court earlier.
It was called off when the Crown Prosecution Service successfully applied for proceedings to be stayed following the report's findings.
Mr Veck, a retired butcher, completed a 10-mile cycle race with the Hampshire Road Club in 2011.
He served as an RAF engine fitter during World War Two.
The charges included one of rape against a girl aged under 16 between August 1975 and August 1977, and two charges of indecent assault of a girl aged under 14 between August 1972 and August 1977.