Hampshire County Council votes to shut three care homes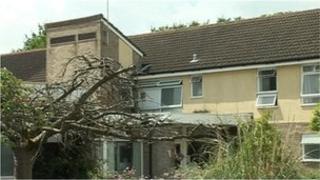 Three care homes for the elderly in Hampshire will close, the county council has unanimously voted.
Bulmer House in Petersfield, Nightingale Lodge in Romsey and Deeside in Basingstoke were all recommended for closure.
The authority's cabinet made the decision on Monday, despite opposition from residents' families.
Cranleigh Paddock dementia facility in Lyndhurst, which was earmarked for closure, will remain open.
The cabinet voted to close Bulmer House and Nightingale Lodge immediately. Deeside, which has 24 residents, will close in autumn next year.
'Farce' decision
The council had said the homes were no longer fit for purpose and added it "would not be economically viable to bring them up to standards".
Relatives who have been campaigning against the closures since July were angered by the vote.
Lynn Rich, the daughter of a Deeside resident, described the decision as a "farce" and said campaigners would continue to "go forward".
"We'll go to the government ombudsman and a judicial review if we have to," she added.
Councillor Roy Perry, Conservative leader of Hampshire County Council, said it was a "positive" move and added the authority would now "upgrade" the provision of care for the elderly.
The council said the decision was not driven by financial considerations but was part of a shift towards providing so-called "extra care assisted" homes, which aim to allow elderly people to live more independently.
These will now be built on some of the sites where the current homes will close.
Mr Perry added he understood it was "difficult" for residents and their families.