Queen Victoria's Swiss Cottage chalet at Osborne House to be restored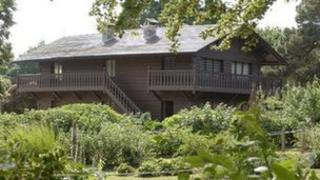 A two-storey play house at Queen Victoria's former seaside residence on the Isle of Wight is being restored.
The Swiss Cottage, a wooden chalet with child-sized furniture and a working kitchen in Osborne House's grounds, was built to educate the queen's children.
Queen Victoria gave the building on the 342 acre estate, now managed by English Heritage, to her children in 1854.
The £1.65m project to rectify structural issues is due to be completed by next spring.
The Heritage Lottery Fund has contributed £776,400 to the work and the project has also received donations from a number of organisations, including the Garfield Weston Foundation.
The conservation work was needed to rectify issues which had developed in the chalet, including problems with timbers used to support its floors.
Miniature fort
English Heritage's Rob Fowler said the chalet was "like something from The Sound of Music".
"It's a timber building and looks like it's straight off the Swiss Alps.
"It was built by Prince Albert to reflect his hometown in Germany."
The work will also see a brick-built barracks, fort with miniature barracks and drawbridge used as a play area by the children at the house repaired.
The conclusion of the project will also see letters, diaries and paintings and 3,000 objects collected by the royal children - Victoria, Albert, Alice, Alfred, Helena, Louise, Arthur, Leopold and Beatrice - go on show.
The estate at East Cowes was bought by Prince Albert and Queen Victoria in 1845.
Queen Victoria died at the palace in 1901 after reigning for nearly 64 years.
The Swiss Cottage is due to reopen to the public in April.