Volunteer duo honoured for 84 years' hospital service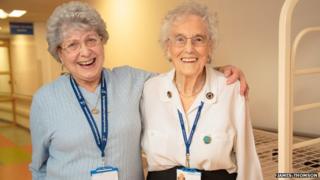 Two hospital volunteers with a combined age of 176, and a total of 84 years helping others, have been honoured for their long service and dedication.
Ivy Abraham, 94, and 82-year-old Karla Gunn were given their awards at Southampton General Hospital.
Mrs Abraham received a 30-year award for services to the surgical outpatient department.
Mrs Gunn received an award for 54 years of service at the hospital as a cleaner and a volunteer on the same ward.
'Give something back'
Mrs Abraham, who will turn 95 on Christmas Day and is currently the oldest volunteer, said the hospital was an "important place".
"I was a patient two years ago when I had a hip replacement and I want to continue to give something back to a hospital that looked after me well," she added.
"Volunteering has helped me live to 95. What would I do if I didn't volunteer?
"Probably sit at home like the old folk do and I don't want to be like that - I want to get out, meet people and be part of something important."
The former Royal Navy servicewoman and ex-county rifle shooting champion comes in twice a week.
'I love them all'
Mrs Gunn, who came to the UK from Germany after World War Two, started work on the Stanley Graveson ward in 1959.
She returned as a volunteer within days of retirement, and still visits three days a week.
"I treat all the team as my children and I love them all," she said.
"Everyone here is wonderful and I appreciate everything they do for me as much as I do for them.
"They give me a chance to spend time in a place that means so much to me."