New Forest armed robber: Police release voice recording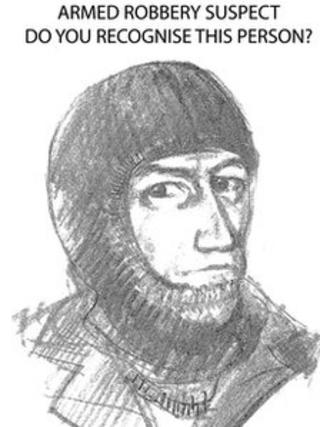 A recording of an armed robber speaking on the phone who struck twice in the New Forest a year ago, has been released by police.
On the anniversary of the first robbery, detectives have issued an extended and enhanced sound clip.
In the first incident on 5 December 2012, a man was forced at gunpoint to drive his Porsche to a cash machine and withdraw hundreds of pounds.
Nine days later a couple were robbed in their home and the woman taken hostage.
Police believe the robberies are linked and the suspect's local knowledge indicates he is from the New Forest area.
They hope someone will recognise the voice in the recording which comes from a victim's phone.
He is described as white, about 5ft 10in to 6ft tall, of slim to medium build and about 40 to 55 years old.
He may have been carrying a black rucksack with a blue stripe down the middle.
The first robbery took place in Brockenhurst at about 06:30 GMT on Wednesday 5 December 2012.
The gunman subsequently stole the Porsche before abandoning it near a railway bridge in Sway.
The second, on Friday 14 December, was in Lymington and happened at about 09:30 GMT.
The woman taken hostage was returned home unharmed before the gunman, who was dressed in a fluorescent vest and swimming goggles, stole the car, which was later abandoned.
Officers are to carry out anniversary visits to Tilebarn Lane in Brockenhurst and new posters are being put up in the area.