Woman hurt in 'hit-and-run crash' outside Southsea pub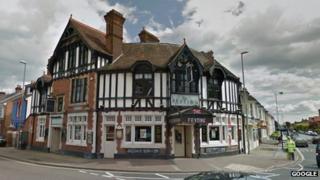 A woman has been left with life-threatening injuries after a suspected hit-and-run crash outside a pub.
The 49-year-old was hit by a black Ford Fiesta outside The Festing in Southsea at about 23:00 GMT on Saturday.
Hampshire Police said the driver fled the scene on foot and ambulance crews needed police support to reach the victim after bystanders began arguing.
A 38-year-old man was held on suspicion of driving with excess alcohol and failing to stop after an accident.
A police spokesman said the victim remained in hospital with life-threatening injuries.