Portsmouth Guildhall refurbishment plans underway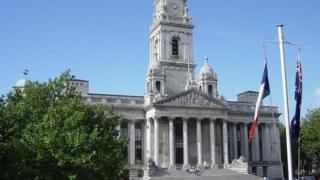 Plans are being drawn up to make Portsmouth's Guildhall one of the "leading music venues" in the UK.
Portsmouth Cultural Trust wants to develop and improve several spaces, including the main auditorium, ground floor box office and reception area.
It is not yet known how much funding the charity will need for the project, which could begin in 2016.
Andy Grays, trust chief executive officer, said it had "serious ambitions" for the building.
'Real potential'
"There has been a lack of capital investment in the guildhall since the early 1990s," he added.
"However the building has real potential beyond its existing use.
"We believe it can become one of the leading music venues in the UK and a major conference centre."
Mr Grays said the aim was to make the Grade II listed guildhall one of the south's most "culturally diverse buildings".
Interior design and architecture students from the University of Portsmouth have been involved in contributing to the initial project designs.
In April 2011, the Portsmouth Cultural Trust was granted a new 25-year lease on the guildhall, which opened in 1890.
The building suffered severe bomb damage during the World War Two and, has it since played host to some of the UK's biggest bands.
Some of the most popular artists of the last 50 years, including The Rolling Stones and The Beatles have played at the venue.
The building is also used for weddings, exhibitions and dance performances.