Gosport crash deaths: Jasmine Allsop's Barbie-themed funeral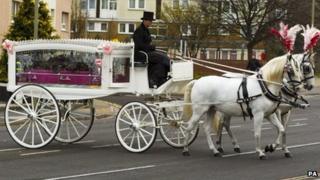 A teenage girl who died when she was hit by a car outside her Hampshire home has been buried in a pink prom dress following a Barbie-themed funeral.
Jasmine Allsop, 14, died in Gosport on 3 November, in a crash that also killed her friend Olivia Lewry, 16.
A private ceremony for close family and friends was held at St John the Evangelist.
Music during the service included Aqua's Barbie Girl, to recognise her love for the popular doll.
'Sparkly wings'
The church, which was decorated in Jasmine's favourite colour pink, was like "Barbie's palace", according to a church spokesperson.
Her pink coffin arrived on a white carriage drawn by two white horses with pink plumes in their manes.
It was followed by a stretch pink limousine carrying her mother, Rosemary Allsop, and other family members.
Jasmine's dog, Tinker, also attended wearing a pink collar, and many of her friends also dressed in pink.
Reverend Carrie Thompson, who led the funeral service, said: "Jasmine loved everything pink, girly and blingy - basically, anything that made her look and feel like her great idol, Barbie."
She said Jasmine had created the "ultimate prom dress - a vision in pink, with the word 'Barbie' emblazoned across the front in diamante" which she said she had been dressed in for the burial.
She urged the congregation not to "get eaten up by bitterness and blame, but do what Jasmine would have wanted - smile and live life".
"She's probably up there sporting pink sparkly wings and a halo, dancing around saying 'Look at me, look at me'," she added.
'Glow sticks'
Ms Allsop, 37, has described how she kissed her daughter goodbye after the incident, which happened outside her home, and said she now felt "empty inside and lost".
The songs She's Not Afraid by One Direction and Shakira's Hips Don't Lie were also played during the service, which also included dancing with glow sticks.
After the service, people were invited to light candles and sign books of condolence in the church.
Jasmine, who was born in Doncaster and moved to Gosport at the age of eight, died at the scene while Olivia was pronounced dead at Queen Alexandra Hospital in Portsmouth.
Samuel Etherington, 20, from Gosport, has been charged with two counts of manslaughter in connection with the incident in Ann's Hill Road.
Correction 30 November 2013: This article has been amended after it emerged the funeral address given by the Reverend Carrie Thompson had been incorrectly attributed to Jasmine Allsop's father.