Boy appeals to Hampshire pygmy goats thieves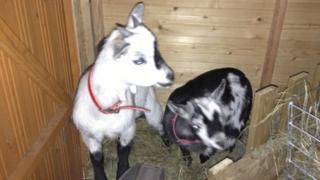 A 13-year-old boy has appealed to the thieves who stole his two pet pygmy goats from his back garden in Hampshire to return them.
Brandon Brady discovered Phoenix and Pepper had been taken when he went to feed them in the morning before school.
His mother Becky said the thieves broke through a back door into the pen in Swanick and took the goats, which are worth up to £600.
The goats are white with black spots, small and chunky with little horns.
Police are investigating but no arrests have been made.
Mrs Brady said the goats were brother and sister and were sold as a pair as they were very attached to each other.
'Treat them well'
Brandon, who has had the goats for about five months, said: "I'm really upset. I was just getting really attached to them... and then to go down there and they're gone.
"The male one has a red collar and the female has a pink collar, but they might have taken them off.
"Please just give them back, just treat them well and don't hurt them."
Mrs Brady said: "There are two external doors which have been broken into and left wide open.
"It's obvious that [the thieves] have moved things about in the pen to block them into a corner to trap them and be able to get hold of them.
"They are quite friendly little goats, but you would have to know what you were doing do be able to - in the middle of the night in the dark - get hold of them.
"So it's definitely been planned out and thought about.
"Police said it's pretty obvious they have been stolen."