Samuel Armstrong sentence increased for Andrew Toseland assault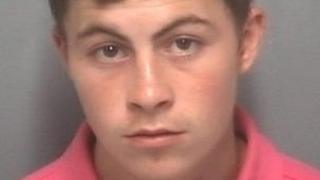 A teenager who attacked a man after he asked him to make less noise has had his jail sentence increased.
Samuel Armstrong, 19, was jailed for five years four months in September after he admitted inflicting grievous bodily harm with intent to Andrew Toseland in Gosport in 2012.
The 49-year-old suffered brain injuries in the attack and can no longer walk.
Increasing Armstrong's sentence to nine years, Lady Justice Hallett said Mr Toseland's life had been "destroyed".
After the hearing, Solicitor General Oliver Heald said it had been "a prolonged attack, fuelled by drink and drugs, and in my view required a longer term in prison".
"I asked the Court of Appeal to look again at this case as I felt the injuries inflicted on Mr Toseland were of the utmost possible seriousness," he said.
'Painfully inadequate'
"I hope the public will be reassured that the court agreed to increase his sentence."
Mr Toseland's family welcomed the extension, saying the sentence "now fits the crime".
His sister, Michelle Yates said: "The backlash from the wider community about the original sentence shows the strength of feeling this case has had.
"We've been bowled over with that - it's been a comfort to us."
Earlier this year, Portsmouth Crown Court heard how Mr Toseland and his brother were disturbed by a group of young men who had been drinking heavily at a party in the same block of flats in Forton Road, Gosport in August 2012.
After being asked to stop making noise, Armstrong delivered a "flying kick" and stamped on Andrew Toseland's head up to 15 times "with great force", the court was told.
The victim suffered severe brain injuries in the attack, causing him to go into a coma and leaving him requiring long-term care and being no longer able to walk.
Mrs Yates said her brother was "not likely to make any more significant progress".
Gosport MP Caroline Dinenage, who had written to the solicitor general about the sentence, described the increase as "welcome and substantial".
"Both myself and the family felt a five year sentence for a crime of this nature was painfully inadequate.
"We have to send a message out that [this] level of violence won't be tolerated," she said.
A second man, Brandon Fisher, 19, was jailed for 27 months after pleading guilty to unlawful wounding for his part in the assault on Mr Toseland.
Last week, it was announced a police officer is to face a misconduct procedure over the case.
An Independent Police Complaints Commission report said a Hampshire police sergeant "did not sufficiently grasp the issues" surrounding reports of anti-social behaviour.