KissyPuppy Appeal's Sophie Rolf loses tumour battle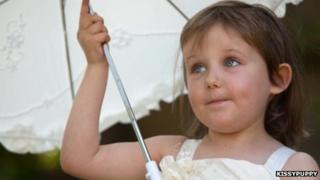 A six-year-old girl with an inoperable brain tumour, who inspired a fund-raising campaign for an Isle of Wight hospice, has died.
Sophie Rolf's parents set up the KissyPuppy Appeal which has raised more than £18,000 for end-of-life healthcare for children on the island.
An Earl Mountbatten Hospice shop was recently opened in Sophie's name.
A message posted by her parents on Facebook said: "She was strong till the end and made the world a better place."
They said "our beautiful butterfly" had died on Monday evening.
"She was with her family who will always love her and treasure the time they had with her," they added.
The KissyPuppy appeal was set up, after Sophie was diagnosed in 2012, to help the hospice develop its services for children with life-limiting illnesses who currently have to travel to the mainland for specialist care.
Earlier this month the fund helped refurnish two rooms and provide specialist equipment for the inpatient ward at Earl Mountbatten Hospice.
The appeal was further boosted by a team running in Sophie's name in the Great South Run at the end of October.