South Parade Pier served with closure notice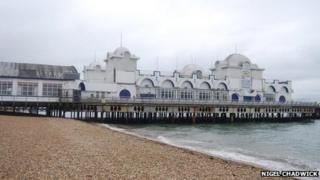 A pier in Portsmouth must remain closed to "protect the public from immediate danger", the city council has ruled.
The main section of South Parade Pier was shut by its owners last year after it was deemed a danger to the public.
But Claire Upton-Brown, city development manager at the council, said it served a closure notice because the owners planned to open on Monday.
Owner Fred Nash could not be reached for comment, but has previously called the Grade-II pier "completely safe".
Speaking last month, Mr Nash said repair works had taken place on the metalwork and concrete of the pier, with further repairs planned next spring.
Ms Upton-Brown said: "The pier must be closed to the public for safety reasons, beyond the concessions at the front.
"The owners have had a voluntary closure in place, on the advice of the council, for more than a year, while arranging for structural repairs.
"The council understands that the owners intended to remove the closure on Monday, so it has had to take action to make the closure compulsory and protect the public."
Campaigners at South Parade Trust (SPT) hope to buy the pier from Mr Nash, who has said he would consider offers.
The group's chairman, Leon Reis, called the council's decision a "dramatic turn of events".
"SPT is urgently seeking talks with the owners to see if this brings us any closer to acquisition by the community," he said.
"We are keen to play a significant part in repairing the pier so it can be restored to full and safe public access."