'Lucky to be alive' milkman becomes cream of the crop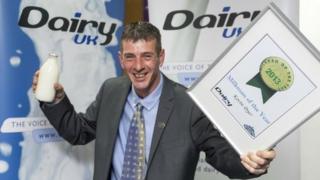 A man who was told by doctors he would never walk again has been crowned Milkman of the Year.
Kevin Dyer contracted MRSA after an operation in 2000 and had to have his right hip replaced in 2001. At the time he was told he was lucky to be alive.
The 45-year-old, who lives in Surrey but delivers to 800 customers in Hampshire, said he was "really chuffed".
He was also named Southern Regional Milkman of the Year in October.
Mr Dyer said that, apart from recuperating from his operation, he had not had a day off sick in more than two decades.
'Temporary job'
He said two alarm clocks and the support of his wife were the key to his successful career.
"I started 25 years ago in what I thought was a temporary job," he said.
"My wife has got used to the hours. We have been married for 10 years."
Mr Dyer said 468 of his customers nominated him for his award and they would be getting a thank-you letter with their deliveries on Monday morning.
He delivers his first pint at midnight and his last by 07:00.
Bedtime for Mr Dyer is 21:00 when he sleeps for two-and-a-half hours. He grabs another three-and-a-half hours sleep when he completes his rounds.
He then heads to Farnborough Football Club, where he volunteers for three hours a day as a handyman.
Mr Dyer admitted that his five children, two jobs, and 16-hour days were quite tiring but said he did not plan on changing things any time soon.
"I don't think I ever will retire, to be honest."
Simon Bates from competition organisers Dairy UK said: "Kevin is the epitome of the modern milkman and thoroughly deserves this title."