eBay Churchill fakes seller Allan Formhals sentence upheld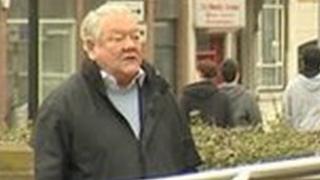 An antiques dealer jailed for selling forged Winston Churchill memorabilia on the online auction site eBay has failed in a bid to overturn his convictions.
Allan Formhals from Milford on Sea was found guilty of 10 counts of fraud in December and jailed for 10 months.
The 67-year-old lawyers appealed his sentence, claiming the original jury's verdicts were "logically inconsistent".
Three Court of Appeal judges in London said there was nothing wrong with the verdicts and upheld his convictions.
The court heard Formhals, of Carrington Lane, sold more than £10,000 worth of items to Kim Taylor-Smith.
Mr Smith, whose father Andrew had run a shop specialising in Churchill memorabilia, had a particular interest in the wartime prime minister.
Formhals claimed to have acquired the signed items from the estate of Squadron Leader Neville Duke, a famous fighter pilot associated with Churchill.
He had in fact found the books at car boot sales and a recycling centre and added the fake signatures later.
'No inconsistency'
A second victim, Basel Boatwright III, of Texas, paid out more than £2,000 for faked memorabilia, while an unnamed third victim paid almost £1,000 for several signatures, including those of writers Joseph Conrad and Robert Louis Stevenson.
Formhals claimed he had no idea the signatures were fake, but was found guilty of eight counts of fraud and two of possessing articles for the use in fraud at Southampton Crown Court last year.
He was cleared of two counts of fraud and the jury was unable to reach a verdict on three further counts.
At the Court of Appeal, Formhals' lawyers argued the guilty verdicts on some counts were "logically inconsistent" with the fact the jury were unable to agree on others.
The court was told the judge at the trial had also wrongly allowed the jury to convict on the basis that Formhals knew or thought the signatures were forgeries, but not necessarily that he was the forger.
But Lord Justice Davis, sitting with Mr Justice Nicol and Judge Elgan Edwards QC, said the trial judge had accurately summed up to the jury what Formhals' defence was.
Dismissing the appeal, he said he and his fellow judges "can see no logical inconsistency in the overall result" and that the court was "satisfied the convictions are safe".