Portsmouth super-strength alcohol ban scheme launched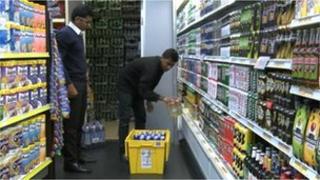 A scheme to ban the sale of super-strength alcohol has been launched in Portsmouth.
Off-licences are being asked by the city council and Hampshire Police to stop selling some beers, lagers or cider with an alcohol volume over 6.5%.
The scheme, which aims to reduce alcohol-related crime, has been backed by about 25 stores in the city.
It is estimated alcohol misuse costs the city more than £70m a year, the council said.
Insp Claire Taylor said the campaign was a "positive" move for the city and said it was not just about targeting shops.
"It's not just about dealing with the cause but also offering those with alcohol dependency other areas of support," she said.
Hospital admissions
Panchalingham Aranan, the owner of New Kwiki Mart Stores, said he would lose about £300 a day by removing 10 products from his shelves.
But he has signed up to the scheme because the shop had experienced "lots" of alcohol related anti-social behaviour.
Dr Andrew Mortimore, interim director of public health at Portsmouth City Council, said: "It is estimated that alcohol misuse costs the NHS, criminal justice service and employers £74m annually in Portsmouth.
"A significant part of this can be attributed to the availability of super-strength alcohol."
He added Portsmouth's hospital admissions due to alcohol were above the average for the UK.
Similar projects are running in other areas of the country, including Ipswich in Suffolk.