Fan 'completes' 1996 Premier League sticker album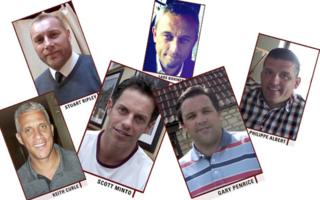 A man who was missing six stickers from a 1990s football album tracked down the players in question so he could complete his collection.
Adam Carroll-Smith, a 29-year-old Portsmouth fan who lives in the city, found the 1996 Merlin Premier League album in his attic.
It took him six months to trace the missing players, visit them and take their photos for his album.
Mr Carroll- Smith said: "They were all fantastic, really accommodating guys."
He described how he always thought he had completed the 1996 album but had a "gut punch" when he opened it 16 years later to discover six spaces remained.
He immediately decided "a great wrong had to be righted" and started an internet search for former Southampton and Blackburn winger Stuart Ripley.
Now a solicitor, Ripley invited Mr Carroll-Smith to Manchester to take his picture.
Finding the two foreign stars he was missing in his album proved more problematic.
After two cross-channel trips, Mr Carroll-Smith found Newcastle United's Philippe Albert was working in the fruit and vegetable trade in his native Belgium.
Blackburn's Norwegian midfielder Lars Bohinen, meanwhile, was taking part in a Scandinavian version of Strictly Come Dancing.
The rest of the six players were tracked down through internet searching, social media conversations and word-of-mouth contacts through networks of football fans.
'More innocent era'
For the lifelong Pompey fan, the album represented a "really interesting period" in the game.
"International stars like Dennis Bergkamp were just coming in but most Premier League players were still English," Mr Carroll-Smith said.
"It was on the cusp of the big money wages. Most players from that more innocent era were on good money, but many still had to have jobs after their football careers and are rooted in the real world.
"No matter how modern the game gets, football stickers will always have a nostalgic quality."
But despite his efforts to track down the players and complete the album, Mr Carroll-Smith then made a surprising decision.
Instead of keeping the album he decided to throw it in the Solent at Southsea.
"It was a cathartic experience," said Mr Carroll-Smith, who has written a book about the experience.
"My wife and I have just had our first child, so this was a symbolic way of showing I'd grown up.
"The sticker album was then and this is now."