MP Mike Hancock conduct decision postponed by Portsmouth City Council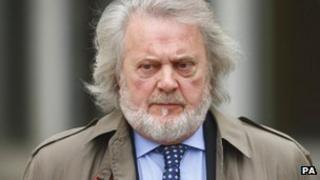 A council has postponed a decision over whether an MP and councillor breached its code of conduct over alleged behaviour towards a "vulnerable" woman.
Mike Hancock, also a Portsmouth city councillor, resigned the Liberal Democrat party whip in June to fight a High Court civil action.
A constituent accused him of sexual assault after she contacted him for help.
The Portsmouth South MP denies the allegation.
Portsmouth City Council's governance and audit and standards (hearing) sub-committee decided to not to proceed with any investigations into Mr Hancock until the High Court proceedings have concluded.
Its meeting followed a report commissioned by the authority by Nigel Pascoe QC, which concluded there was a case to answer.
'Rigorously defending'
A spokesman for Mr Hancock said previously: "Mike asked to meet with the independent investigator and this was denied him despite him raising the refusal with the city council's solicitor.
"The police investigated matters from the complainant thoroughly and they found that there was no case to answer.
"Similar matters by the same complainant are subject to a civil dispute which Mike is rigorously defending.
"It's not appropriate therefore, unfortunately, to provide an ongoing running commentary on the matter.
"Mike greatly thanks his constituents for the many warm messages of support that he has had and he will continue to work hard to serve his constituents as an MP and councillor."
When the sub-committee does continue with its investigation, it has a number of options.
It could either exonerate Mr Hancock or find he failed to comply with the code of conduct.
If this is the case, it could decide to take no further action, or Mr Hancock could be censured, removed from council committees, or restricted from the authority's premises for up to six months.