Turkey death children: Statue to Yaanis and Mira Mellersh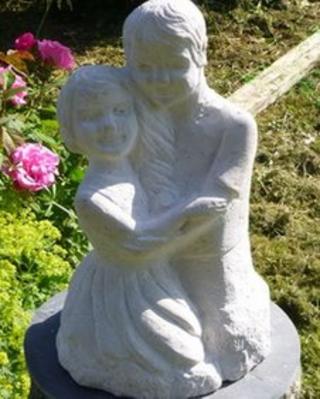 A statue of two children found dead with their mother in Turkey has been unveiled at a New Forest church.
The bodies of Yaanis and Mira Mellersh, aged eight and six, and their mother Elke were discovered in a farmhouse in November 2011.
Brought up in Minstead, near Lyndhurst, the children went missing with their mother from Hepstedt, near Bremen in Germany, in February 2010.
The stone memorial has been placed in the garden of The Church of All Saints.
The statue which shows the two children hugging was carved by their grandmother, artist Jeanie Mellersh.
She said: "The hardest part was carving the date the little ones died."
Pictures of a Viking ship and a lizard, two of the children's favourite things have also been inscribed on the plinth with the words, "Remember all lost children".
Mrs Mellersh said: "I hope parents of lost children will find solace in the memorial and remember the joy and love their child brought them."
The statue was dedicated at a special service at the church.
Following a marriage breakdown while living in Germany, their father Justin Mellersh had legal custody of their children.
Elke Mellersh was wanted by Interpol on suspicion of child abduction after she and the children went missing.
They were found dead in Soke, western Turkey on 18 November 2011 in a farmhouse which has its windows and doors taped shut.
Reports from Turkey's press suggested they died from carbon monoxide poisoning from a heater.
Despite efforts by their father to have their bodies flown back to the UK for burial in Minstead, a Turkish court ruled their bodies should be transferred to the custody of their mother's relatives in Turkey.
All three were buried in the remote mountain province of Tunceli, the home village of their mother.