Tottenham Hotspur force Fleet Spurs badge redesign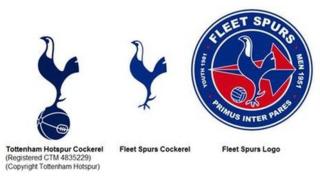 A non-league football club have been forced to change their badge design after Tottenham Hotspur complained that it was too similar to theirs.
Lawyers for the Premier League side wrote to Fleet Spurs, from Hampshire, telling them to drop their crest.
The Wessex League Division One club said it was "heavy-handed" and changing their badge would cost them between £3,000 to £4,000.
Tottenham said they had to protect the club's identity.
Fleet Spurs were set up in 1948 in homage to the north London side by people returning from World War Two, although there are no official links between the clubs.
The Hampshire team have always incorporated a cockerel into their badge, in tribute to Tottenham, and said their current design was introduced after a fans' competition.
'Felt really intimidated'
The club admitted the winning fan probably based their entry on Tottenham's design but said they were disappointed at the way the matter had been handled.
Tottenham, who originally contacted the club in the summer but failed to resolve the matter amicably, have allowed them to keep the design on their kit until it is next replaced.
Bryan Sheppard, chairman of Fleet Spurs, said: "We haven't got a penny to our name, we couldn't afford to fight it.
"It's been quite stressful, we just felt really intimidated by the heavy-handed approach.
"But I can see where they are coming from."
The club said they were changing their website and have been allowed until Christmas to remove the crest from their ground, moves they said would cost money.
Mr Sheppard said there would be another fans' competition to design a new logo but club officials would study the winning entry carefully.
A spokesman for Tottenham Hotspur said: "If we do not take action to stop Fleet Spurs using our cockerel logo, it can undermine our ability to stop other unauthorised people who use our logo for commercial purposes, such as counterfeiters.
"We are very conscious that Fleet Spurs is a grass-roots club. For this reason we have been very careful not to ask them to do anything that might incur costs.
"It was always the club's approach to deal with this matter amicably and with a large dose of common sense."