BoomTown Fair licence under review over noise levels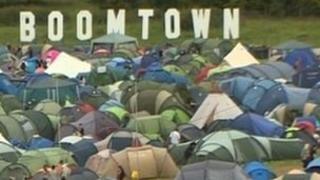 A music festival is to have its licence reviewed following concerns over noise levels.
Winchester City Council said the licence for the BoomTown Fair, which is held at Matterley Bowl, was under formal review.
The council said noise levels at this year's four-day event near Winchester had exceeded the limits.
Organisers said they lowered the volume when the breaches became apparent and welcomed the review.
A spokesperson said: "We welcome the formal review to ensure that the licence we hold works for all parties, especially the local community."
Tickets are already being sold for the next BoomTown Fair, scheduled to start on 7 August next year.
The event's licence application is to be considered by the council's licensing sub-committee.
Wind direction
The council said it had opted to review the licence rather than take legal action against the event's organisers.
Councillor Jan Warwick said: "It would cost a great deal of public money and would not necessarily deliver improvements.
"This option allows everyone to have their say on the conditions to shape the event for the future."
The council said there was evidence that noise levels at times were 10 decibels too high during the festival held from 8-11 August.
The council also said a change in the wind direction had caused the music noise to carry towards Winchester.
Organisers lowered the volume when the breaches became apparent.
The four-day event's finish time of 04:00 BST was also briefly breached.