Plans to restore art deco cinema for Isle of Wight film fans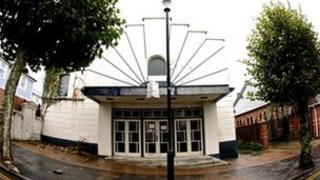 A film enthusiast wants islanders to help save an art deco cinema that will otherwise be turned into housing.
Bruce Webb, director of the Isle of Wight Film Festival, must raise £210,000 by January to save the Rivoli.
The Sandown building started life as a Victorian Oddfellows Hall and was converted to a cinema in 1921, when it was given its distinctive frontage.
The cinema closed in 1962 and became a bingo hall. Until recently it was used as a costume warehouse.
Mr Webb plans to sell his property on the Isle of Wight and has secured £8,000 through crowdfunding, selling personalised seats and season tickets in order to raise funds to buy the building.
'I was gobsmacked'
He says he has another £100,000 to raise before the deadline.
Mr Webb said the interior of the building still had its original projection room, a bar, raked flooring for 500 seats, the screen frame and fire exits.
He said: "The cinema came up for sale last year and I finally got to see inside and I was gobsmacked.
"It was like finding a rare old classic car in a barn."
The cinema is not listed, but is in a conservation area.
If Mr Webb is successful, the new cinema will become a key venue for the Isle of Wight Film Festival.