Southampton 'legal high' death deemed 'accidental'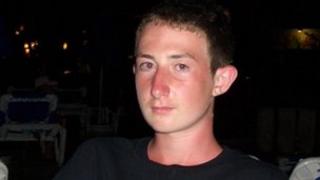 A man died after taking a so-called "legal-high" which he bought over the internet, an inquest has heard.
Adam Hunt, 18, died on 18 August after taking the substance alpha-methyltryptamin (AMT), marked "not for human consumption", at his home in Southampton, Hampshire.
He had also purchased another drug, etizolam, but this was not found in his system, the Southampton inquest heard.
Coroner Keith Wiseman recorded a verdict of accidental death.
"Anyone taking this kind of drug in any kind of quantity is potentially walking into the unknown, into disaster really," Mr Wiseman said.
'Experimentation gone wrong'
The inquest heard Mr Hunt told a friend on 14 August he had bought 2g of AMT, which was supposed to have the same effects as MDMA (ecstasy), and intended to take it later that day.
Det Sgt Jeremy Boughay, of Hampshire Police, said Mr Hunt's mother, Bernadette Fagan, returned home later and heard her son calling for help from his bedroom.
He was described as "sweating and shaking" before being taken to Southampton General Hospital where he died four days later.
Pathologist Dr Brian Green told the inquest a post-mortem examination found Mr Hunt, an electrical engineering student, died of multiple organ failure caused by taking a dose of almost 1g of AMT.
"It was sadly an experimentation gone wrong," he said.
Hallucinogenic properties
Mr Boughay said Mr Hunt's computer was seized and it was found that he had researched AMT and other legal highs on the internet.
Packets containing the drugs were also found which were marked "not for human consumption", the inquest heard.
Mr Boughay said the drugs AMT and etizolam were not prohibited under the law but this did not mean they were safe to use.
He explained that it was difficult to legislate against such products as a slight change in their composition would mean they would be classed as a different product, and would therefore no longer be banned.
Speaking after the inquest, he said: "The point we are trying to make is that there is no process to ensure what is written on the packet is what is in there because they are unregulated."
The inquest heard AMT, which has similar effects to amphetamines, was developed to tackle depression but was no longer used because of its hallucinogenic properties.
Mr Hunt's mother and father Darren previously paid tribute to "a much-loved son" whose life had been "cut prematurely very short."