Southampton and Portsmouth get City Deal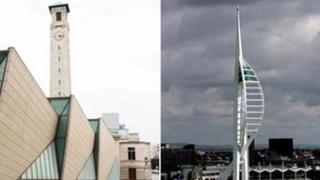 The government has signed a City Deal with Southampton and Portsmouth aimed at boosting development and jobs.
The move comes a week after BAE Systems announced 900 jobs will go when shipbuilding ends in Portsmouth next year.
The government will hand over Ministry of Defence land at Tipner to Portsmouth City Council.
Additionally £7m has been given to Southampton's Watermark West Quay site.
A government spokesman said almost £75m worth of public money was on the table, some of which will be used to "kick-start" development of land at Tipner.
A development estimated to cost £831m, including new homes and a motorway junction, has been planned for the area.
'Not mitigation'
The Watermark West Quay site in Southampton will receive £7m from the government's Regional Growth Fund. It is hoped this will help attract £90m worth of private sector investment.
Minister for Cities Greg Clark signed the City Deal with local authorities and business groups in Portsmouth earlier.
Mr Clark admitted parts of the deal were included in light of the job cuts at BAE Systems.
But Gerald Vernon-Jackson, leader of Portsmouth council, said: "This is a separate deal which we have been negotiating for a year.
"This is not mitigation for the job cuts at BAE, that has to be a separate agreement... and I've written to the prime minister to ask for assurances for additional work to be coming into the dockyard in Portsmouth."
There are also measures to help about 1,000 long-term unemployed people through a new £5.8m Solent Jobs Pilot.