Lollipop man, 82, died after being 'scooped up by car'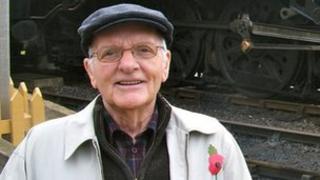 An 82-year-old lollipop man died after being "scooped up" by a car and thrown into the road after the driver was blinded by sunlight, a jury has heard.
Raymond Elsmore suffered head and chest injuries in the crash near Queens Inclosure Primary School, Waterlooville, Hampshire last December.
Portsmouth Crown Court heard Lauren Paul, 22, hit him in her Nissan Micra.
Ms Paul, who wept in court as the jury heard evidence of the events, denies causing death by careless driving.
'Shattered windscreen'
Matthew Lawson, prosecuting, described how Mr Elsmore had been escorting a pregnant pedestrian, Toni Ponting, across Tempest Avenue when the accident happened on 5 December.
He said Mr Elsmore had been standing in the southbound carriageway holding up his lollipop sign at the time.
Ms Ponting "saw the Nissan Micra approach from behind, instead of slowing or stopping, it ran right into Mr Elsmore," he added.
"Mr Elsmore was scooped up on to the car which shattered the windscreen, he was thrown forward on to the road as the Nissan Micra braked and stopped."
Mr Lawson said when Ms Ponting asked Ms Paul what had happened, she replied that she could not see.
The court was told the defendant said: "I didn't see him, I would have stopped if I had seen him."
The jury heard she told a police officer: "I was driving along the road, the sun was low and my screen was starting to mist.
"I pulled my visor down and heard a bang. I never saw the guy from first to last."
Mr Elsmore was flown to Southampton General Hospital where he later died.
'Severe shock'
The court heard Ms Paul gave a statement to police saying she was travelling to South Downs College where she works, at the time of the crash.
She was not in a hurry, she was "feeling alert and not stressed" and was also familiar with the route, the court was told.
Ms Paul was in "severe shock" after the accident and hearing of Mr Elsmore's death had a "traumatic effect" on her, the court was told.
She told officers she was "desperately sorry" for what had happened to Mr Elsmore and the loss his family had suffered.
An accident investigator, who visited the crash scene, experienced how the bright sun had the effect of "blending in" with the colour of a colleague's high visibility jacket, similar to that worn by Mr Elsmore at the time of the accident.
Investigations established she had been travelling between 21mph and 28mph, the court heard.
Mr Lawson said that the Highway Code stated that a driver should "slow down or if necessary stop" if dazzled by bright sunlight.
He added: "The defendant's driving at the time fell below what would be expected of a competent and careful driver in all the circumstances."
The trial was adjourned until Tuesday.