Southampton City Council warns almost 100 jobs could go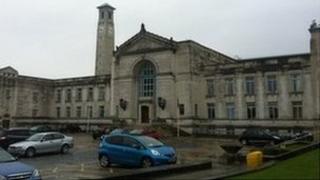 A council has warned it has "no choice" but to make difficult decisions and cut almost 100 jobs, as it looks to make millions of pounds in savings.
Southampton City Council met earlier to discuss cuts of £13.5m for 2014/15, and warned council tax would rise by 1.99% each year over the next three years.
The council blamed government funding cuts, increased costs and increasing demand for services.
Deputy leader Stephen Barnes-Andrews said the council had to "work smarter".
In February, the council approved the biggest budget cuts in its history - some £16m.
'Care and attention'
Labour council cabinet member for resources, Mr Barnes-Andrews said it had drawn up the 2014/15 proposals with "due diligence" and had to transform the way it worked.
"We have taken proper care and attention as you're talking about people's livelihoods," he added.
"We have kept jobs lost or at risk to a minimum."
He added the council was "absolutely committed" to protecting frontline services.
Of the job losses, 43 are expected to be lost though the streamlining of some council departments.
Another 50 will go as part of its 2014/15 budget proposals - 22 of those posts are already vacant.
City finance director, Andrew Lowe said the draft budget still showed a funding shortfall of £1.4m but the council was "working hard" to balance the books.
Mr Lowe also warned that the council still had to find further savings of around £49.5m by 2016/17.
The authority has already made £57m of savings over the past three years.
Pay changes
A public consultation on the proposed changes runs until 10 January.
Final budget proposals will be published at the end of January, with the budget due to be set by the full council on 12 February.
During the meeting at the Civic Centre, the council also announced proposed changes to its current pay and allowance structure.
Changes to staff pay grades, overtime and public holidays are some of the initial changes.
A letter explaining the changes has been sent to all staff.
In it, the council said it was taking the issue "very seriously" and was working with employees, head teachers and trade unions on the plans.
The authority said it hoped to implement the changes in October 2014.