Portsmouth pauses on Remembrance Sunday at Guildhall Square ceremony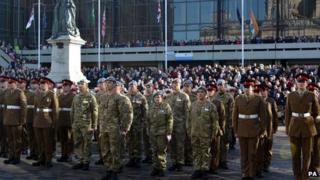 Hundreds of people gathered to remember those who lost their lives in conflicts around the world, in the home city of the Royal Navy.
Serving military personnel and members of ex-service groups took part in a parade in Portsmouth as part of the Remembrance Sunday service.
The service in Guildhall Square commenced with a gun being fired from HMS Nelson at Portsmouth Naval Base followed by a two-minute silence.
The Royal Marines Band led the parade.
Also taking part were representatives of the Boys Brigade, Portsmouth Scouts and St John Ambulance.
The service of remembrance was led by the Dean of Portsmouth, the Very Reverend David Brindley of St Thomas of Canterbury Anglican Cathedral and the Reverend Canon Dominic Golding of St. John's Roman Catholic Cathedral.
Hampshire Police Choir led the singing, accompanied by the Salvation Army band.