Synthetic rubber company Polimeri Europa UK to close Hythe plant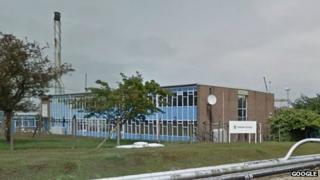 A synthetic rubber company is to shut its factory in Hampshire with the loss of up to 300 jobs.
Polimeri Europa UK Ltd told employees it would be closing its plant at Hythe near Southampton at the start of 2014.
The company blamed the closure on falling demand for replacement car tyres, as well as competition in Asia leading to a fall in exports.
It has manufactured synthetic rubber, for tyres and moulded foams, at the Hythe factory for 50 years.
A statement from the company which is a UK subsidiary of Italian firm Eni, said 130 posts would go, although the BBC understands the number of sub-contracted jobs also at risk will push the total figure towards 300.
'Hammer blow'
In a statement the company said: "The Hythe site has been successful in making significant improvements to its performance over the last few years however, unfortunately, without a sustainable market for its products it is unable to benefit from the progress made."
It said consultations with trade unions would begin in the next few weeks.
New Forest East MP Dr Julian Lewis described the closure announcement as "a hammer blow".
"As always in these cases there will be knock-on effects further down the supply chain.
"It really is bad news and one must have huge sympathy for the workers involved," he said.
Jo Addison, whose husband works at the plant, said she had spent a "sleepless night" before today's announcement.
"I cannot put into words the complete sense of abandonment. For the majority of these loyal employees in their 40s, 50s and 60s it is all they have ever known - where does their future lie, how on earth are they going to provide for their families?" she said.