Residents worried about 'neglected' horses in Alton field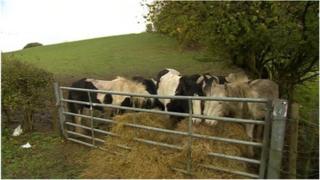 People living near Alton in Hampshire say there are still horses suffering from neglect in a field from where 46 starving animals were rescued six weeks ago.
About 16 ponies are still in the field off New Odiham Road, though in the last few days hay has appeared by the gate.
The RSPCA says it is continuing to monitor the animals that are left and has attempted to contact the owners.
Local people say they are still very concerned.
Resident Monica Durrant said: "[The hay appearing] is all a little bit of a mystery, and it's a great relief to see them eating something.
"So to whoever has done that, all of us can only be grateful.
"But what we don't want is for this situation to continue."
The horses all appear to have been abandoned by their owners, and 46 of them were removed from the field on 26 September.
Their plight was first reported to the RSPCA during the summer and officers have since unsuccessfully tried to trace the owners.
A veterinary assessment found the condition of the horses rescued had deteriorated to a level where they were at risk of starving to death.
The RSPCA, Hampshire County Council and horse charity Redwings worked together to remove the animals.