Portsmouth cocaine haul: Drugs discovered in banana pallets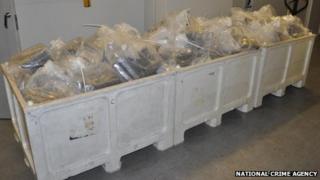 A massive shipment of cocaine, believed to be the biggest haul seized in the UK for two years, has been found hidden among boxes of bananas.
National Crime Agency (NCA) and Border Force officers discovered 850kg (0.8 tonnes) of the drug in Portsmouth with a street value £136m.
They were on a Panamanian registered ship that had travelled from Colombia.
Tom Dowdall, of the NCA's border policing command, called it a "major blow" to the criminals involved.
Officers boarded the MV Crown Jade on Saturday evening and found the cocaine concealed in pallets of fruit after a three day search.
It was described as "very high purity", at more than 80%.
'Joint operation'
Both agencies said it was the biggest drugs seizure since 1.2 tonnes of cocaine was discovered on a luxury yacht in Southampton, in May 2011.
Mr Dowdall said: "It would have been cut several times before being sold, so the amount found here could have ended up as several tonnes at street level."
Immigration Minister Mark Harper said: "I congratulate the Border Force and NCA officers involved in stopping such a huge amount of drugs entering the UK and ending up on our streets.
"This joint operation is an example of the intelligence-led, co-ordinated action being taken to protect our border and target the organised criminals behind drug and people trafficking."
Since the drugs were removed, the MV Crown Jade has been allowed to leave, headed for the Belgian port of Antwerp.